Posted by
netmaa
on May 8, 2013 in
Arts Articles
|
Comments Off on FREE Music Classes for Youth! Music LA Celebrates Asian and Pacific Islander American Heritage Month
MAYOR ANTONIO R. VILLARAIGOSA,
THE LOS ANGELES CITY COUNCIL, THE DEPARTMENT OF CULTURAL AFFAIRS (DCA), THE ASIAN AND PACIFIC ISLANDER AMERICAN HERITAGE MONTH (APIAHM) COMMITTEE, AND THE WALT DISNEY COMPANY INVITE YOU TO PARTICIPATE IN

THE 7TH ANNUAL MUSIC LA APIAHM HERITAGE MONTH CLASSES
Youth ages 13 -19 are invited to participate in hands-on instrumental and vocal music classes offered at two program sites in Los Angeles with Bali & Beyond at the Indonesian Consulate and the Sangeet School of World Music at Eagle Rock High School. Student participation will include performance training in an ensemble setting through workshops and rehearsals. After eight to ten weeks of instruction, all students will take part in public culminating performances for family and friends. All classes are designed to celebrate Asian and Pacific Islander American Heritage music and culture. Registration is FREE of charge, thanks to the Title Sponsorship of The Walt Disney Company.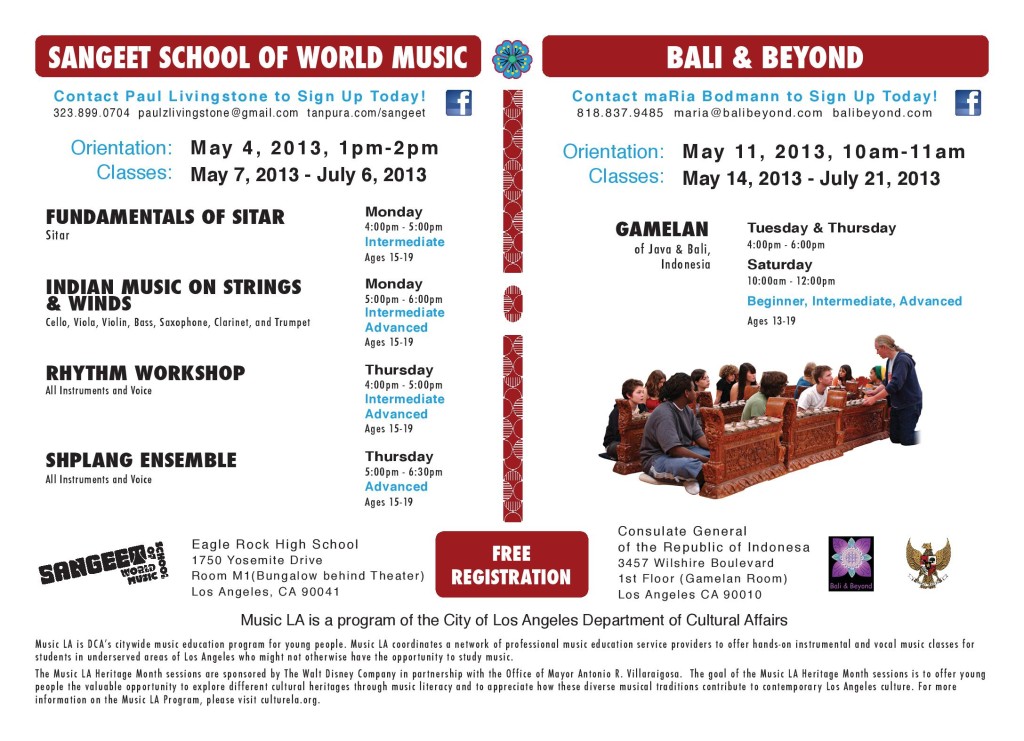 2013 Music LA classes in honor of Asian and Pacific Islander American Heritage Month will take place between May and July. For details on class offerings and registration, please see the e-flyer attached.