Need help with an immigration problem? We can help?
Network of Myanmar American Association (NetMAA), Asian Pacific American Legal Center (APALC) annd American Immigration Lawyers Association (AILA), Southern California Chapter present a FREE Immigration Clinic where you can get answers to your questions about green cards, visas, citizenship, and other immigration matters. This clinic serves members of the Myanmar community.
WHERE: MONTEREY PARK CITY LIBRARY,
318 S. Ramona Avenue, Monterey Park, CA
ROOM INFO.: Friends Room , 2nd Floor
TIME: 1:30 PM – 3:30 PM
DATE: Sunday, April 3, 2011
NetMAA provides individual immigration and citizenship assistance, educates the Myanmar community on immigration issues, and advocates for fair immigration laws and policies.
APALC is the nation's largest legal organization serving the Asian and Pacific Islander (API) communities. APALC advocates for civil rights, provides legal services and education and builds coalitions to positively influence and impact Asian Pacific Americans and to create a more equitable and harmonious society.

AILA is the national association of over 11,000 attorneys and law professors who practice and teach immigration law. AILA Member attorneys represent tens of thousands of U.S. families who have applied for permanent residence for their spouses, children, and other close relatives to lawfully enter and reside in the United States.
Call now for an appointment! Appointments are strongly encouraged.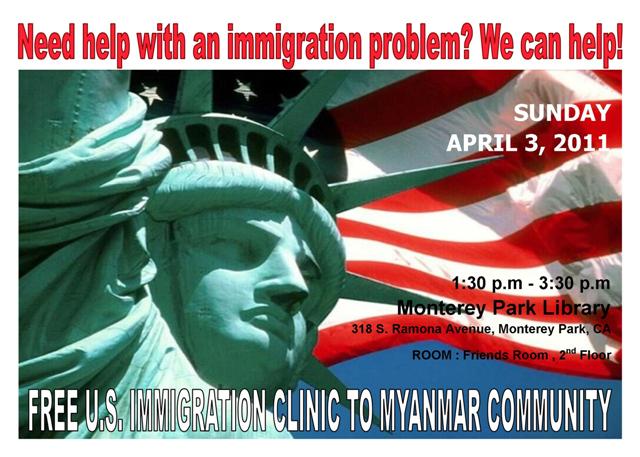 For an appointment or information, please contact at 626 757 4319 or email to info@netmaa.org