Posted by
Thakhin Bo
on Jun 27, 2011 in
News Article
|
0 comments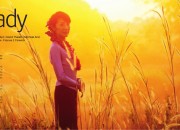 Speaking on the sidelines of a jewelry exhibit in Hong Kong on Thursday, Yeoh called the movie "an incredible love story that has political turmoil within," referring to Suu Kyi's relationship with her husband, Briton Michael Aris.
"More importantly for me is that people should know her story because unfortunately I think a lot of people have forgotten or don't really understand what was going on because it's been 20 years," Yeoh said. The 48-year-old Malaysian-born actress met with Suu Kyi as part of her preparation for the role.
The star of Crouching Tiger, Hidden Dragon, Memoirs of a Geisha and the James Bond movie Tomorrow Never Dies said Besson, the French director, is currently editing the movie and is eyeing a world premiere at the Venice Film Festival which runs from Aug. 30 to Sept. 10.
Yeoh said she was grateful that their shoot in Thailand was not interrupted by curious fans. In an age where cellphone footage is common, there were few leaks from the set of The Lady.
"It was very important that we did it low-profile and I think because of that you have the integrity of what the film is about," she said.
Yeoh's other upcoming release is the animated movie Kung Fu Panda 2, which is the first time she has lent her voice to a cartoon character. She is the voice of The Soothsayer.
Yeoh said she has always resisted voiceovers because of what she described as her "husky, deep voice," which she said was often confused for that of a man.
 
source:http://michelleyeoh.info/Movie/thelady.html