Posted by
netmaa
on Jun 21, 2013 in
Arts Articles
|
Comments Off on FILM SUBMISSION OPEN for: 6th Annual Myanmar Film Festival of Los Angeles – MFFLA 2013
6th Annual Myanmar Film Festival of Los Angeles -MFFLA 2013
September 14-15, 2013, Los Angeles – USA
(Held every year)
Thank you for your interest in submitting your film to the 2013 Myanmar Film Festival of Los Angeles. Submissions are now open.
The Myanmar Film Festival of Los Angeles promotes Myanmar arts and culture, bringing the growing Myanmar community together to celebrate culture and network with other Asian communities, filmmakers, and artists. The film festival provides a rare glimpse into country of Myanmar.
There is NO FEE to submit a film to the festival, and, as is standard practice, no payment to filmmakers to screen their films.
Film Eligibility:
– Feature films must not have had any public or festival screenings in the greater Los Angeles area, including Los Angeles, Orange, and Ventura counties.
– Feature films and short films must not have had any commercial, theatrical or television play in the U.S. Features films must not have broadcasted on the internet.
– For submission purposes, DVD screeners may be of works-in-progress, films with temporary soundtracks, or digital outputs.
– Filmmakers must deliver final format (as indicated) for Festival screenings. No exceptions will be permitted.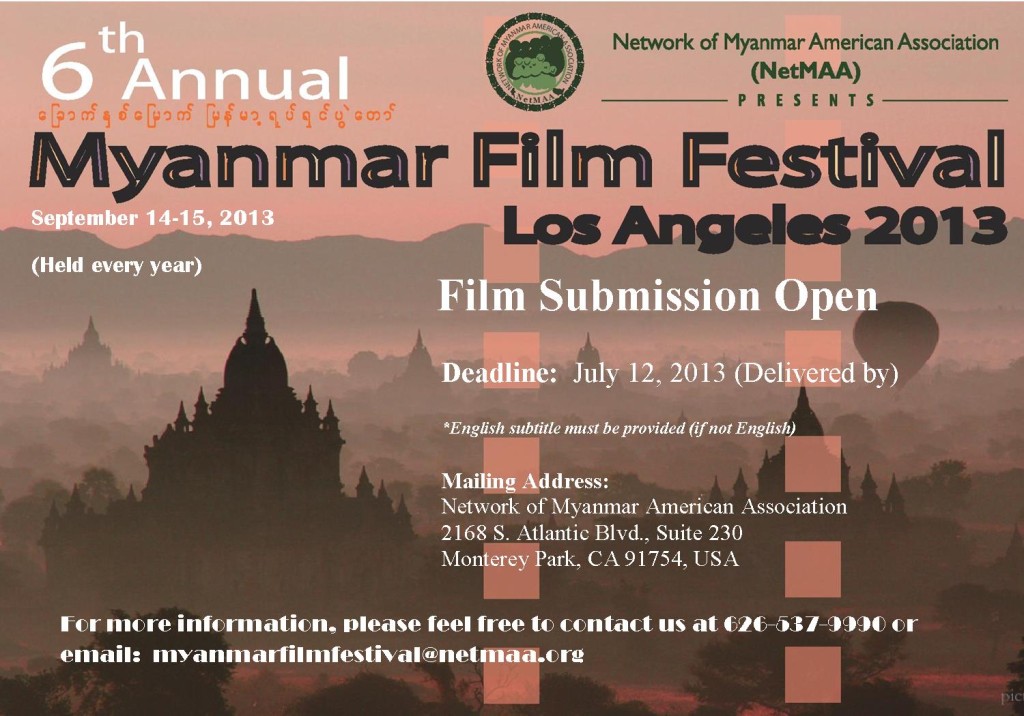 Deadline: July 12, 2013 (Delivered by)
*English subtitle must be provided (if not English)
Mailing Address: Network of Myanmar American Association
2168 S. Atlantic Blvd., Suite 230
Monterey Park, CA 91754, USA
Please note that the above dates are not postmark deadlines– they are the dates by which your film MUST be received in our office!
For more information, please feel free to contact us at 626-537-9990 or email myanmarfilmfestival@netmaa.org
Myanmar Film Festival Of Los Angeles Entry Form
2013 Myanmar Film Festival Of Los Angeles – Entry Form